Your Engagement Ring Inspiration
Planning to pop the question? As well as planning your perfect proposal moment, you'll want to find a beautiful ring that your partner will love.
Read on for inspiration to help you choose the perfect engagement ring.
Tip #1 – The Four Cs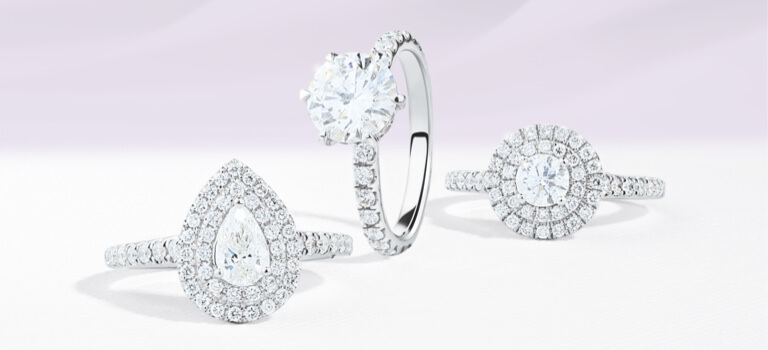 There are Four Cs to think about when choosing a diamond engagement ring: cut, colour, clarity and carat. You can choose which matters most in order to get the look your partner will love, and within your price range. Our Evermore and Prelude collections offer a wide range of beautiful choices, so their dream ring is within reach.
Tip #2 - Choosing the look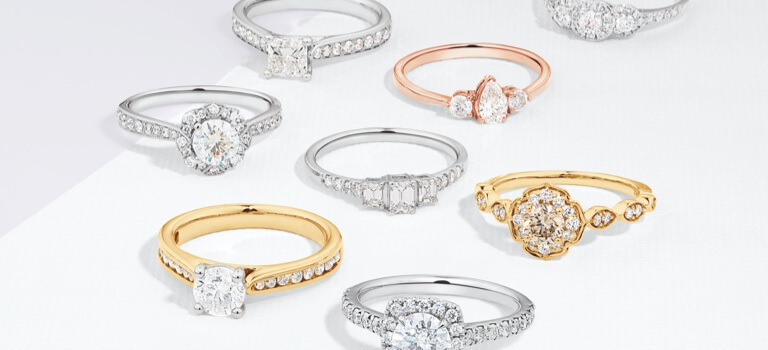 Think about your partner's personal style. Do they love a classic, elegant look? A solitaire ring is ideal. Lots of sparkle? Go for a style with a pavé diamond band, cluster or halo design. Or do they love to stand out? Opt for a unique shape, coloured centre stone, vintage engagement ring, or rose gold engagement ring.
Tip #3 – What makes a premium diamond?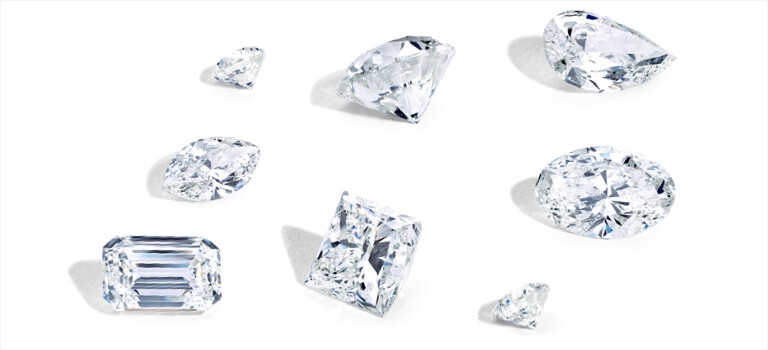 A diamond's quality and rarity is based on the Four Cs. Of these, diamond cut is the most important aspect as it impacts the sparkle of your diamond.
Colourless diamonds (graded D, E, or F) are extremely rare and are valued for their vivid white appearance. Diamonds with a high grade of clarity have few or no visible inclusions and/or blemishes and are of the utmost rarity. Large diamonds are also rare, making single diamonds with a larger carat weight highly valuable.
Tip #4 – Matching a Wedding Band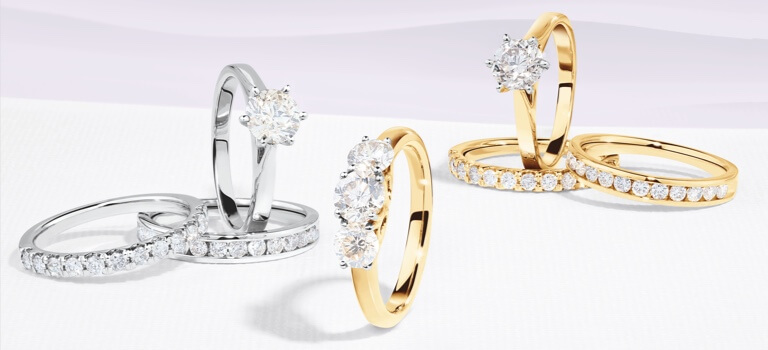 While you will usually give an engagement ring when you propose, or shortly afterwards, the wedding bands are exchanged on your wedding day. We offer a wide range of wedding rings, from simple, precious metal bands to diamond bands.
For extra sparkle or a unique touch, try an enhancer to complement a solitaire engagement ring, or a contoured band for an interesting shape. We also offer a beautiful range of ring sets, which include an engagement ring and wedding ring perfectly paired together for you.
FAQs
There are several factors that affect the price of your diamond (known as the Four Cs), and the carat weight is just one of them. Diamonds with exceptional colour and/or clarity grades are highly desirable and very rare, meaning they will cost more. The cut of the diamond is considered the most important 'C', and it requires a skilled artisan to create an expert diamond cut with the ideal sparkle, fire, and brilliance – which also factors into the diamond's price.

How much do you spend on an engagement ring?

The traditional 'rule' would have it that you should spend two months' salary on an engagement ring. Some couples may still choose to follow this guideline; however, there is really no set rule on how much you should spend. It is more important to choose a ring that your fiancé-to-be will love, at the right price range for you.

If you want a diamond engagement ring, focus on the diamond shape, quality of cut and ring style. If you want a large look for a smaller budget, consider multi-stone styles – for instance, a halo, three-stone or cluster style. Gemstone rings are also a beautiful option that come at a comparatively lower price point than diamonds. Sapphire engagement rings and morganite engagement rings are among the most popular.

Which finger do you put an engagement ring on?

Your engagement ring is traditionally worn on the ring finger of your left hand, the same finger as your wedding ring. For many cultures this is where it is commonly worn and so it is recognisable as a symbol of your commitment to your partner. It's thought that this custom may have originated in ancient times when it was believed that a vein ran directly from your left ring finger to your heart.

The Four Cs of diamond grading refer to cut, colour, clarity, and carat. While the carat refers to the diamond's weight, each element has its own impact on the look and quality of the diamond.

Cut is considered the most important factor, because the quality of cut has an impact on the fire, sparkle and brilliance of your diamond. This is because a diamond's cut affects the way it reflects light.

The colour grade refers to white diamonds. The scale spans from D – Z, with D being completely colourless and diamonds at the other end of the scale having a more noticeable yellow hue. Colourless diamonds (D, E, and F grade) make up just 1% of the world's diamond supply and are valued for their vivid white appearance.

Diamond clarity refers to the inclusions and blemishes present in a diamond. The vast majority of diamonds will have some level of inclusions and/or blemishes and these are often very difficult or even impossible to see with the naked eye. Diamonds that are graded Internally Flawless have perfect internal clarity and are exceptionally rare.

What is the most popular ring style and cut?

The timeless solitaire ring is a versatile style that has lasting beauty and elegance. Solitaire rings feature a single diamond as the centrepiece. They are popular because they suit most people's personal style and they can also be dressed up and tailored to suit your preferred look or to mark relationship milestones, with wedding bands and enhancers. Solitaire engagement rings are most sought-after with a round brilliant diamond – as this shape maximises the fire and brilliance of the stone. The princess cut is widely popular exuding a classic elegance – closely followed by the trending fancy shape oval for a point of difference.

Halo styles are also popular. A halo refers to a centre diamond surrounded by a 'halo' of smaller diamonds, or even a double halo, to amplify the size of the centre stone and create a beautiful sparkling effect. Halos are popular with round brilliant, princess, cushion or pear cut centre stones. In all ring styles, round brilliant diamonds are the most popular cut. This multi-faceted cut offers beautiful sparkle, while the round shape is timeless.

What is the difference between an engagement ring and a wedding ring?

The engagement ring is a symbol of your commitment to each other and your intention to get married, so usually you will give your partner the engagement ring when you propose. If you have decided to choose the ring together as a couple, this will likely happen shortly after you propose. The wedding ring signifies that you and your partner are married, and both of you will wear a wedding ring. These are exchanged during your wedding ceremony. Thereafter, your wedding ring will traditionally be put on your ring finger first, with your engagement ring on top.

While engagement rings usually feature a centre diamond or gemstone, or centre arrangement of stones, wedding rings are traditionally a simple band which will be made of precious metal or set with diamonds. Generally you will select the engagement ring first and then a wedding band to complement it. You can also stack wedding bands to enhance your engagement ring, or to mark milestones such as anniversaries, and create a beautiful look tailored to you.

Which type of metal is best for an engagement ring?

Gold is the most popular precious metal for engagement rings, since it has timeless beauty and is available in different options to suit your style and budget. Choose from yellow gold, white gold, or rose gold, as the perfect setting for your diamond or gemstone ring. 10 carat gold represents an ideal blend of affordability, durability, and beautiful shine. 14ct and 18ct gold options are also available for this significant piece of jewellery.

Platinum is another popular metal for engagement rings, because of its stunning lustre and natural, silver-white hue. It is also a highly durable metal, making it perfect for a ring worn on your hand everyday, but it comes at a higher price point than gold.