Why An Anniversary Ring?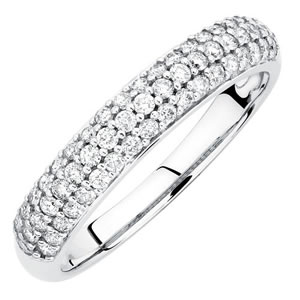 What better way to show your love than with an Anniversary Ring. This important ring signifies your commitment to your partner and shows them that they are your absolute everything and that they will be for eternity.
An Anniversary Ring represents the concept of eternal love, which why the diamond Anniversary Ring remains the third most popular item after engagement rings and wedding rings.
SHOP ANNIVERSARY RINGS
The History Behind An Anniversary Ring
Have you ever seen an Ouroboros Ring? It looks as if a serpent is eating its own tail, to create a beautifully unique ring. It is believed that this is the first ever example of an Anniversary Ring. From the beginnings of ancient Egypt to modern times, the Ouroboros Ring has been an ancient symbol of eternity. This ring was to symbolize that there is no beginning or end – that two souls were made and created as one. These rings were made with anything from bone, horn, strung beads, and stone. This is a far cry from the elegance and luxury that Anniversary Rings showcase today.
Each Anniversary Ring tells a story. There are many styles available to choose from, and one thing remains the same. The diamonds. A diamond is one of the main features that creates the beauty of an Anniversary Ring. The stunning rock represents durability through any storm, unique like your love, and has a timeless beauty.
An Anniversary Ring immortalises you and your partners love. Pick yours today and show your love forever. Our team in store look forward to helping you find the perfect Anniversary ring.
See our collection here!
BROWSE NOW