How to style your engagement ring: Three Stone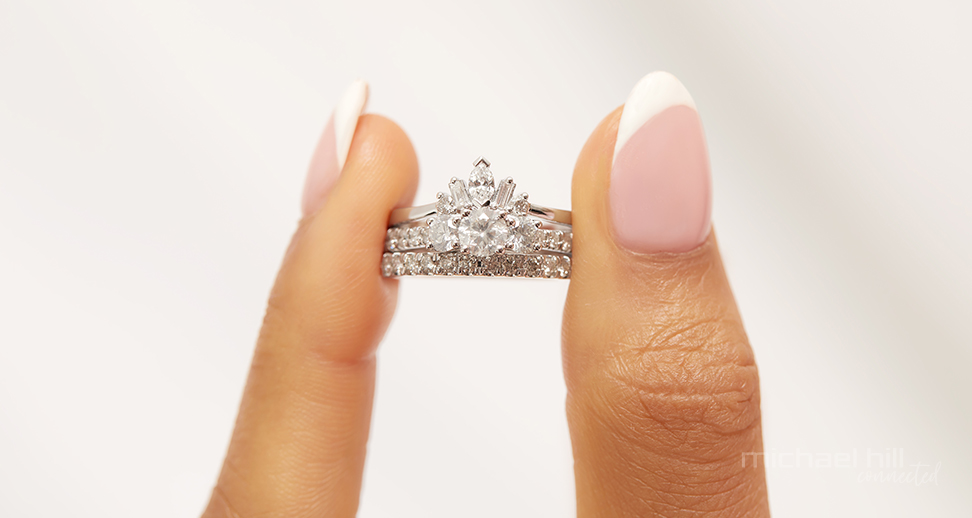 A three stone engagement ring is one of the most timeless and versatile designs, but with its elongated centre setting it's a unique shape to style. Whether you love a classic bridal look, or you want to enhance your stunning engagement ring with different shapes, textures, and sparkle, here are our top four ideas for styling a three stone ring.
Classic with a twist
For an elegant and classic three stone engagement ring, use your wedding and eternity bands to add interest and texture while keeping your overall look timeless.
Classic three stone designs set in a precious metal band, especially those with round brilliant diamonds, will pair with just about any style of wedding and eternity band. Amplify your engagement ring with a bold wedding band in a matching metal colour; a style with channel-set diamonds will add statement width to your stack.
For a unique option, try a twisted, cross-over or contoured wedding band. You can then add further detail by stacking an interesting eternity band such as a scalloped or wave design, or one which features diamond shapes that contrast with your engagement ring.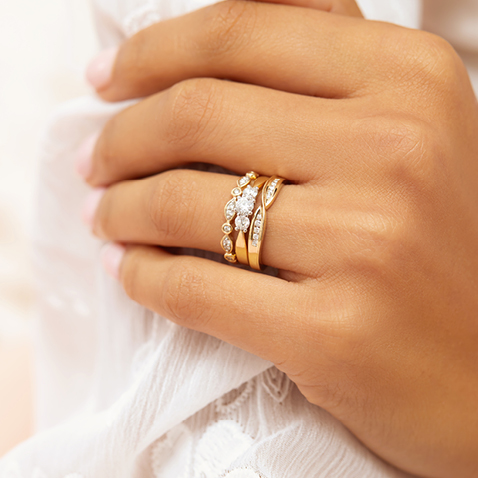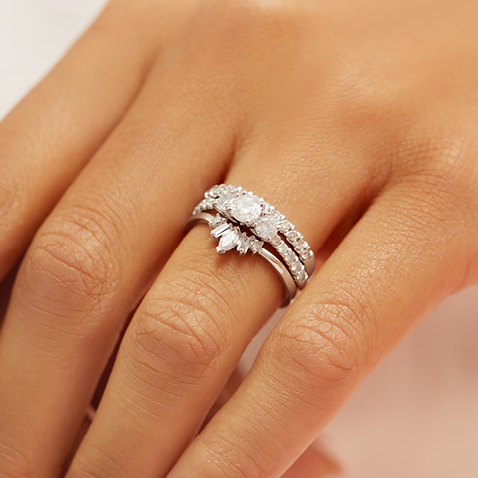 Diamonds on Diamonds
For a sparkling three stone engagement ring featuring a pavé band, the perfect styling option is to go all out with more diamonds!
A simple, straight wedding band set with diamonds in the same shape as those in your engagement ring will amp up your sparkle and enhance the overall size appearance of your engagement ring. You can customise your bridal stack to suit your style by choosing a more delicate or a more bold wedding band, from a dainty style with around 0.2 carat TW of diamonds to an eye-catching 1 carat TW.
Then, go even bolder or add a delicate finish with your eternity ring. We love this unique wedding band from our Evermore Collection, worn as a 'crown' style eternity ring to top off this spectacular stack.
Perfectly matched
Keep your bridal ring look simple and stunning with a wedding band that perfectly matches and enhances your engagement ring. A wedding ring that mirrors the diamond details of your engagement ring (such as the clarity and colour grades) will highlight its beauty.
Many engagement rings from our exclusive Collections can be paired with a beautifully cohesive wedding band. Our signature Sir Michael Hill Designer Bridal Collection features a selection of new wedding bands specially designed to fit with the exquisite engagement rings in the Collection. Ask our expert teams in-store to help you find the perfect wedding band to match your engagement ring.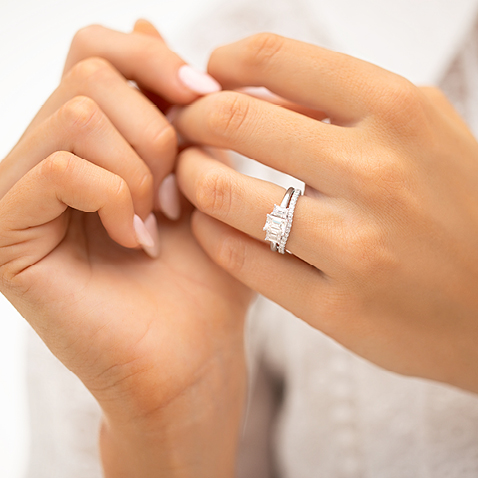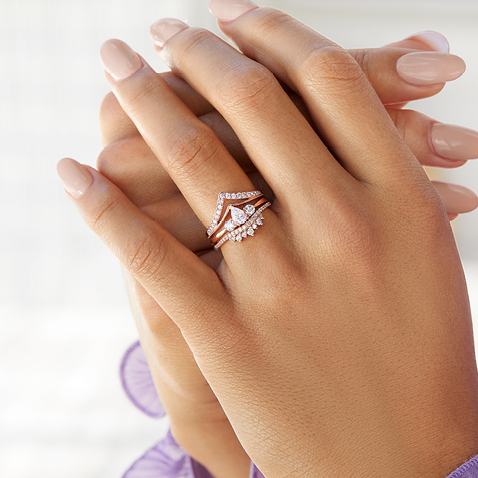 Create unique shapes
A unique three stone engagement ring design doesn't mean you need to play it safe with your styling; make the most of your beautiful ring by pairing it with intricately shaped wedding and eternity bands.
You can ensure your bridal ring stack remains elegant and cohesive by choosing bands in the same metal colour, that follow the shape of your engagement ring. For instance, this stunning ring from our Evermore Collection featuring a pear-shaped centre diamond is beautifully matched with a curved wedding band beneath it, and a chevron-style band worn with the pointed end following the taper of the pear stone.
Consider the overall look of your uniquely shaped engagement ring and which details you love most, to decide the best band shapes and textures to pair it with.