Gold on Gold: 6 Ways to Style Gold Jewellery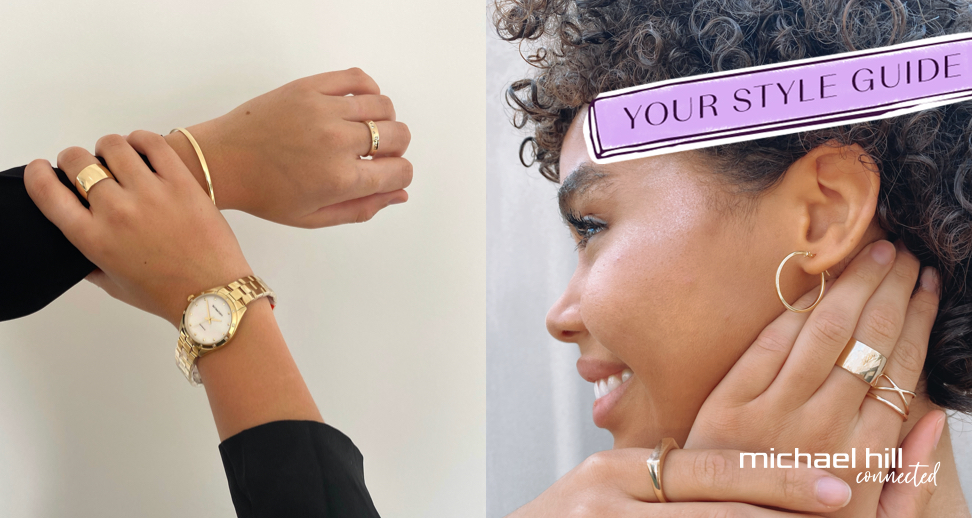 Gold jewellery is the ultimate jewellery wardrobe essential. Quality gold pieces will prove to be go-to styles every time you get dressed. It's also super versatile, and you can find timeless gold jewellery that suits your personal style and that you can mix, match, and layer as part of many different looks to suit your mood, your outfit, or a special occasion.
Two fashion influencers with their own amazing individual styles showed us the different ways they wear gold jewellery to suit them.
Ash
When you're first starting your jewellery collection, as we know, purchasing good quality jewellery can be pricey so start small and work your way up. If you're unsure, I'd suggest noting which pieces you wear most often and begin there. Remember that it's an investment and you want to be able to keep these pieces for a long time.
1. Don't Rush
It may be an odd place to start but I like to begin with a single, statement ring on my middle finger and decide how I'm feeling that day. I often find this feels like plenty of jewellery for the day. But, if I'm keen to wear more it's such a good foundation to begin to layer.
2. Time to layer
If my outfit feels like it needs something more that day, my go-to is layering. I love including different shapes and textures on both hands whilst still using that statement piece to build around. Don't be afraid to try new designs and always have a go at trying different ways to stack the jewellery and just get creative with trial and error. Plus! You can try a new combination each time.
3. Must have hoops
This is a no brainer for me. A hoop earring is so chic and in-style that I think they are a must-have in everyone's wardrobe. They compliment the face and are a great way to subtly tie together your entire look. Play around with sizes to find what best suits you. If you have multiple piercings, you can layer these too!
India-Rose
As a lover of the ocean, adventure, fashion and beauty my jewellery has to be both beautiful and durable. Gold has quickly become my metal of choice which I have fun styling, stacking and wearing on a daily basis. I believe gold suits anyone and the way you style it shows a lot about the person you are.
1. Choose your statement pieces
When wearing gold jewellery I like to have feature pieces that catch the eye. I firstly pick a few of my favourite or largest pieces which I use as a base to style the rest of my jewellery. My ultimate favourite feature piece is the Barrel Ring because of the incredible size and the rich gold colour. Even when wearing lots of gold pieces this ring becomes the hero, attracting compliments wherever I go.
2. Add delicates to compliment
I personally love the effect of chunky jewellery beside beautiful delicate pieces. I think it provides the perfect balance of fine with funky. I have chosen the Minimal Heart Disc Necklace, and two stacker rings because they were petite but different with the use of scattered diamonds. If you love the dainty look and want to mix it up you could remove the statement pieces and wear the fine pieces on their own for a minimalistic classic look.
3. Incorporate texture
Adding texture into your jewellery styling is essential because it adds a certain depth and effect to your jewellery. Adding texture elevates your other jewellery, creating the perfect additions when putting together an edgy look. I have added different weights by mixing textured dainty rings with thick chunky chains.
What's your favourite way to style gold jewellery? Discover the perfect pieces to suit your style, shop gold jewellery online >
Want some help to choose the gold essentials you'll wear again and again, or workshop styling ideas? Book your FREE Virtual or In-Store Appointment! Learn more and book >