Eternity Rings: What are they & when are they given?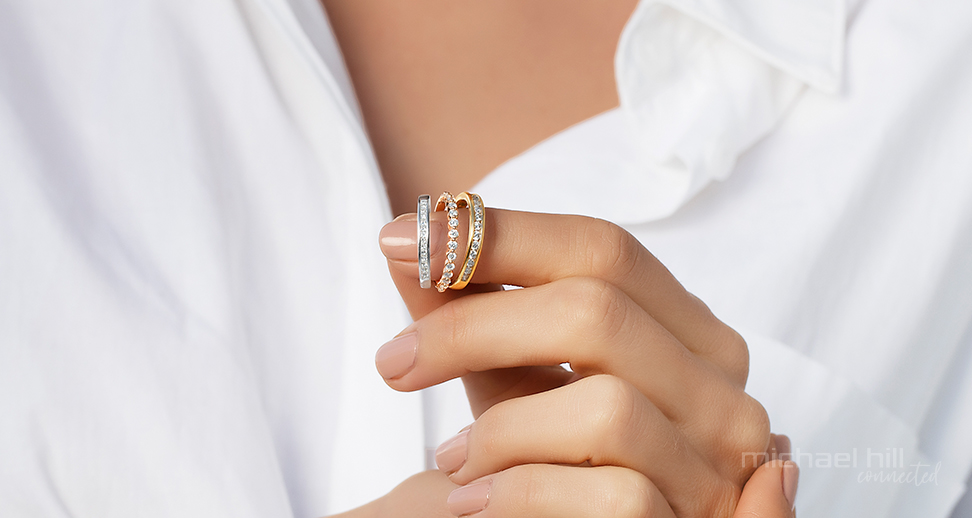 Eternity rings are traditionally the third piece of your bridal ring set. Read on to discover what they are, what they symbolise, and when you should consider dropping the hint for one to your partner.
Shop our Favourite Eternity Rings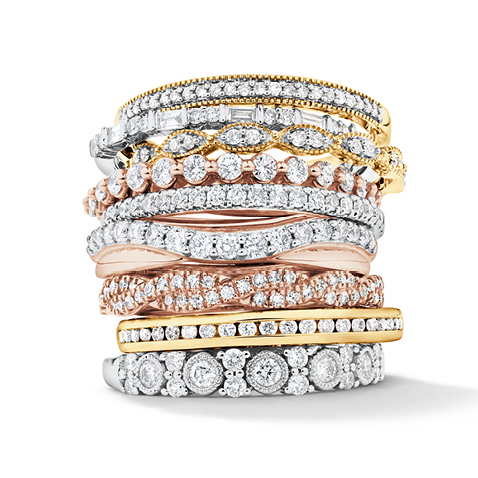 What do eternity rings look like?
Eternity rings are traditionally a band set with diamonds. While many eternity rings feature stones all the way around the band, a lot of people opt for rings with stones set along the ring's face and sides, which allows for greater comfort and resizing if needed.
Since an eternity ring symbolises just that – eternity – and it's something you'll wear forever, the most important part of choosing your ring is that it's something you genuinely love. For this reason many people choose rings with unique designs or differently-shaped bands, to create a look that's unique to them and which compliments their wedding and engagement rings.
If you're unsure where to start, explore our beautiful range of diamond bands online. Then, use our new Virtual Try-On feature to see how they'll look on your hand!
When do you receive an eternity band?
This really depends on the couple. It's most common to receive your eternity ring when you and your partner celebrate a milestone wedding anniversary, such as 10 years. It's a way of acknowledging that as your marriage continues to evolve over time, you remain committed to each other and more in love than ever!
Another popular time to gift an eternity ring is to celebrate the arrival of your first child together. Some couples choose other special moments to give an eternity ring, such as birthdays or Christmas, buying your first home, renewing your vows, or any other moment that is special and meaningful to the two of you.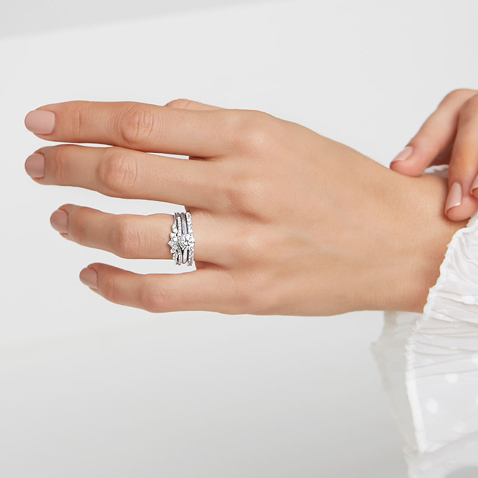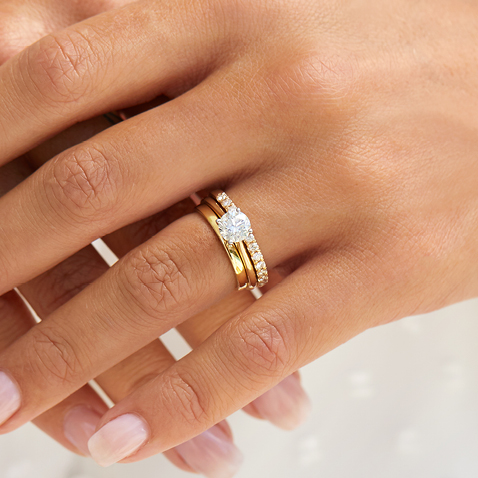 How do you wear an eternity ring?
If you wear all of your bridal rings together, it's tradition that you wear your eternity band on top of your engagement ring, closest to your finger tip. Your wedding band is commonly put on your finger first so that it's closest to your heart, which is tied to an ancient belief that your left-hand ring finger was directly connected to your heart.
Many brides choose to keep wearing their engagement ring after they're married, so this is slipped on top of your wedding band. Your eternity ring then helps to frame your engagement ring, and signifies the next step in your relationship – a shared promise of ongoing and everlasting love and commitment.
What do eternity rings mean?
Just as your engagement and wedding rings have similar yet unique meanings – your engagement ring for promise, your wedding ring for commitment – an eternity ring symbolises your everlasting love and devotion to your spouse.
The gorgeous @krystal.brooke recently shared with us her journey to choose an eternity ring, which you can read more about here.
She says, "I feel like now in our lives I've reached a point where I would love to add an eternity band to my set of rings. We have three beautiful kids, a beautiful marriage, and I would love to mark this moment in my life with an eternity band."
Do you have a bridal set that you love? Share it with us! @michaelhillj #mymichaelhill
Get some one-on-one help to find your perfect eternity ring, in the way that's best for you! Book your Virtual or In-Store Appointment with your Personal Jeweller – learn more and book here >
Words by Megan Greaney
Megan has been a writer for over 10 years, and has been writing content at Michael Hill for over two years where she has gained an extensive knowledge of jewellery – from styling and craftsmanship to materials and stones. With a background that also includes fashion, and studies of Journalism and Anthropology, she is perceptive of the emotions and cultural contexts linked to what we wear.
Last updated 9th September, 2021