How to Find Your Dream Ring for Your Budget
Becoming engaged is one of the most significant and exciting moments in your life. It opens up all the possibilities of your future with your partner, such as a home, a family, and travel plans. For many couples, the costs of those future (or immediate!) plans take precedence over the price of the engagement ring.

The beautiful news is, it's very possible to find a sparkling engagement ring to symbolise your commitment to each other – without blowing your budget. There are a number of engagement ring options that are not only beautiful, but affordable.
Multiple Diamonds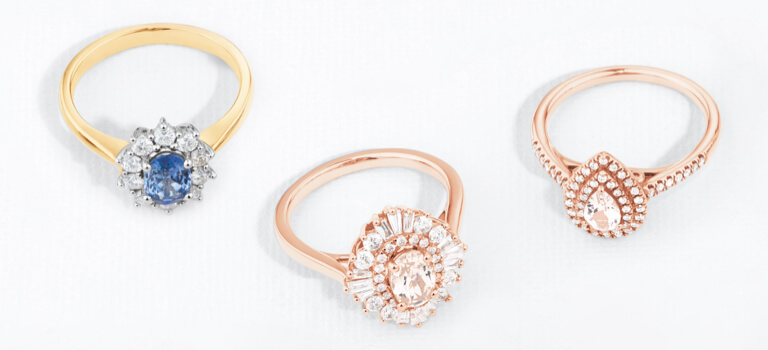 1. Maximise Your Budget with Multiple Diamonds
It might sound counter-productive, but a ring with multiple diamonds can be an affordable choice. This is because single diamonds with higher carat weights are inherently rare and therefore dearer; while smaller stones are much more accessible. The beauty of multi-stone and cluster diamond engagement rings is that you don't have to sacrifice on sparkle; and in fact, you can achieve a big look with these styles.

Some multi-stone rings are cleverly designed so that the smaller diamonds grouped together resemble a larger diamond; such as baguette cut diamonds paired side-by-side to look like a larger emerald cut, or halo styles which amplify the size of your centre stone.

These styles are also perfect if you want a unique engagement ring design, as working with multiple small diamonds allows jewellers the freedom to create beautiful shapes. And, this style allows you to tap into the Art Deco and vintage engagement ring which are trending.
For a refined approach, try a three-stone ring. This style flanks the centre stone with two smaller diamonds, creating a substantial look for an affordable price point.
For a refined approach, try a three-stone ring. This style flanks the centre stone with two smaller diamonds, creating a substantial look for an affordable price point.
Colour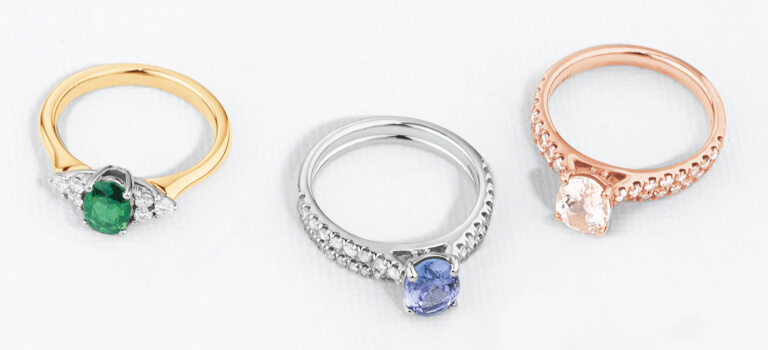 2. Colour Outside the Lines with Gemstone Engagement Rings
Diamonds are forever, but they are not the only sparkling option for engagement rings. In fact, coloured gemstones have become a popular choice for brides-to-be seeking a unique and personal look. They also come at a more budget-friendly price point than diamonds, without giving up size and wow-factor.

Precious and semi-precious gemstones will give you beautiful, vibrant colour. Sapphire engagement rings are one of the most popular choices. They are the second hardest gem following diamonds, making them a perfect choice for rings. Morganite rings are also among the most-loved thanks to their beautiful blush colour and high level of hardness, the perfect centrepiece to a rose gold engagement ring.
Solitaire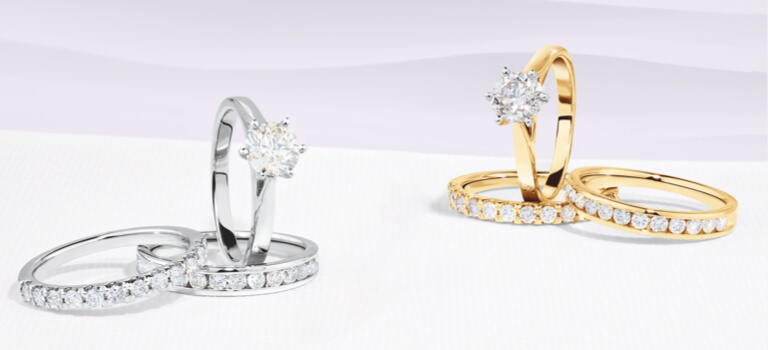 3. Find the Solitaire Ring for You
Have your heart set on a classic solitaire ring? This timeless style is always on-trend, and it is very possible to get your dream engagement ring under $2,000.

A daintier diamond is not only affordable, but fashionable, with smaller diamond solitaires enjoying the spotlight. But you don't necessarily have to compromise on size, if it's important to you. There are Four Cs of diamond grading, including cut, colour, clarity, and carat weight – and you can choose which of these matter most to get the look you love for your diamond engagement ring.
A handy tip is to focus on the shape and cut of your diamond. Elongated diamond shapes, such as oval, pear, and emerald cuts, will appear larger than other shapes when viewed from the top, while a round brilliant cut give you the maximum sparkle for your diamond.
Diamond Bands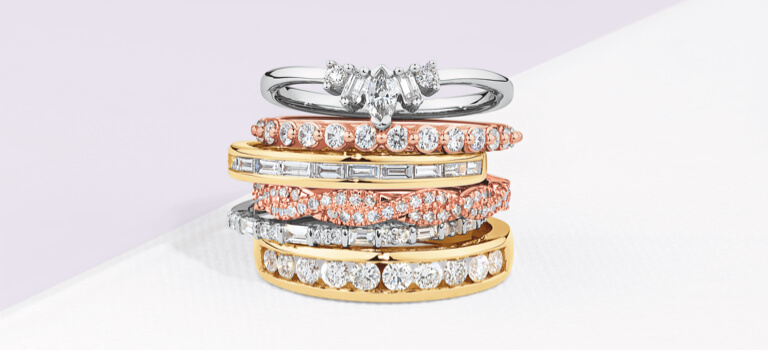 4. Make a Unique Statement with Diamond Bands
For a unique engagement ring, try a diamond band (or several!). While this is a different look to the more traditional engagement ring styles, a beautiful diamond band is nonetheless a timeless choice that has staying power beyond a passing trend.

Diamond bands generally feature a row of stones that are channel set, grain set, or claw set into the band. Choose a look that is unique to you by opting for an unexpected design such as scalloped, chevron, or contoured, in your favourite metal colour. Since these styles are typically made up of multiple smaller diamonds, it is easy to find your engagement ring under $2,000 or even under $1,000.
The true beauty of a diamond engagement band is the ability to create a custom bridal ring look. Beginning with your engagement band, you can add a complementary one as your wedding ring. Choose two shapes that you love the look of together, mix your metals for a unique take, or simply go for a double row of diamond bands. As you and your partner celebrate anniversaries and milestones together, you can further add to your sparkling stack.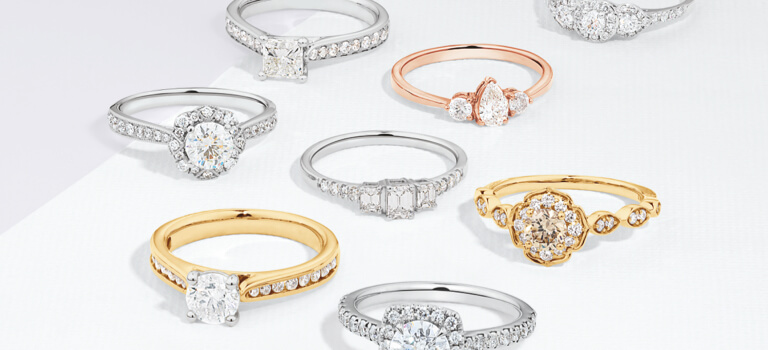 Learn more about choosing the perfect engagement ring.
FAQs
The first thing to understand is that 'affordable' is subjective, and each couple will have their own budget that they want to stick to. Do some initial research and browse for engagement rings by price, so you will have an idea of what to expect.
Decide what is most important to you in choosing your dream engagement ring. If you want a diamond ring, consider the Four Cs and various engagement ring styles to find a beautiful ring in your price range. If eye-catching size and sparkle is what you are after, a coloured gemstone ring might be for you.
Consider also the precious metal that your ring is crafted in. Gold is available in different carat levels, and a higher carat will come at a higher price.
If you are ready to buy, it's also a good idea to keep an eye out for a sale, as you can find great savings on engagement and wedding rings.
It's entirely up to your personal preference whether you choose diamonds or gemstones for your engagement ring. Diamonds are the most popular choice because of their beauty, sparkle, and their symbolism of purity, strength and love. They are also prized because they are an extremely hard stone (nothing can scratch a diamond except for another diamond), meaning they are durable for wearing on the hand everyday.
Precious and semi-precious gemstones are also a beautiful choice for engagement rings, and are a unique choice. Gemstones each carry their own symbolism, so you can make a vivid personal statement about your love.
Just like price, there is no specific 'rule' dictating how many carats of diamonds your engagement ring should have. Celebrity engagement rings might lead you to think bigger is better, but it really depends on your personal preference and lifestyle which size and style of ring is best.
It's also important to distinguish between a 1 carat diamond and 1 carat total weight (TW) of diamonds. If a multi-stone ring or piece of jewellery includes 1 carat TW of diamonds, this refers to the total combined weight of all the individual diamonds. A single, 1 carat diamond will cost more than several smaller diamonds that together add up to 1 carat.
Many of our best-selling engagement rings range from 0.5 carat to 1.5 carats total weight (TW) of diamonds.