KEEPING YOUR JEWELLERY LIKE NEW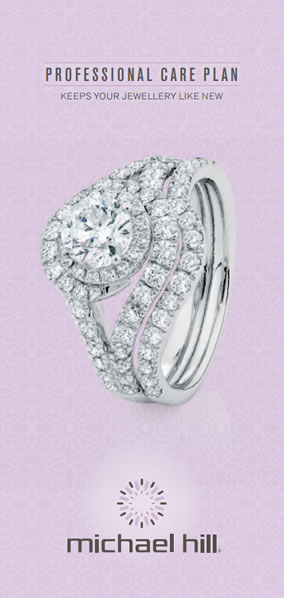 Life doesn't stop just because you're wearing jewellery. That's why we make it easy to keep your piece shining as brightly as the day you fell in love with it.
With the purchase of either a three-year or lifetime Michael Hill Professional Care Plan, the following repairs and services are covered at no charge:
Refinishing and polishing
Chain and bracelet soldering
Rhodium plating white gold
Resetting diamonds and gemstones
There are no regular inspections required, just drop in to your local Michael Hill store at any time with a copy of your plan, and the team will be happy to inspect and clean your piece.
For more information, contact online@michaelhill.com.au
*Up to 2 sizes, once every 12 months. Not all styles of rings are suitable for resizing and are excluded from the service under this plan.
Terms and conditions apply to the Professional Care Plan:
TERMS AND CONDITIONS
Instructions: You must keep this Plan and the original sales docket for the product; they are integral parts of the Plan and you are required to produce them to an authorised Michael Hill representative to obtain service under the Plan.
To Obtain Service: To obtain service under your Plan, produce the covered item along with the Plan document and original sales docket to a Michael Hill store. Unauthorised modifications and repairs are not covered under this Plan. Australian Consumer Law Our goods come with guarantees that cannot be excluded under Australian Consumer Law. You are entitled to a replacement or refund for a major failure and for compensation for any other reasonably foreseeable loss or damage. You are also entitled to have the goods repaired or replaced if the goods failed to be of acceptable quality and the failure does not amount to a major failure. This Plan sets out various services provided by Michael Hill which are in addition to your legal entitlement under Australian Consumer Law. The services provided under this Plan in no way limit your existing rights under Australian Consumer Law.
What is covered? This Plan covers parts and labour costs, up to the value of the original purchase price. Cosmetic damage from normal wear and tear is not covered. The repairs and services covered under the Plan include ring sizing (up to 2 sizes; maximum once every 12 months; does not cover re-shanking of rings; certain styles of ring are not suitable for resizing and are excluded from the resizing service under this Plan), re-tipping of prongs, stone tightening, refinishing and polishing, cleaning and inspecting, earring repair, chain and bracelet soldering, rhodium plating white gold (once every 12 months), resetting diamonds and gemstones, and clasp replacement.
What is not covered?
(1) Incidental or consequential damages;
(2) Damage from accident, abuse, misuse, introduction of foreign objects into the product, tampering with prongs, unauthorised modifications or alterations, or failure to follow the manufacturer's instructions;
(3) Unauthorised repairs and/or parts;
(4) Damage covered by any other warranty or service plan;
(5) Cosmetic damage including scratches, peelings, dents that do not impede the mechanical functionality of the item;
(6) Third-party actions (fire, collision, vandalism, theft etc);
(7) The elements or Acts of God;
(8) War, invasion or act of foreign enemy, hostilities, civil war, rebellion, riot, strike, labour disturbance, lockout or civil commotion;
(9) Preventative maintenance;
(10) Flaws in gemstones;
(11) Loss of diamonds, gemstones or any other parts of the covered product unless such loss was caused by a defect in workmanship and/or materials, without any undue stress or damage;
(12) Any loss other than a covered breakdown of the product;
(13) Accessories used in conjunction with a covered product;
(14) Loss of use during the period the covered product is at a repair facility or otherwise awaiting parts.
Terms of Coverage: The term and coverage of this Plan begins on the date of purchase and continues for 3 years in the case of the three year Plan or, in the case of the lifetime Plan, for the owner's lifetime or the product's lifetime, whichever is shorter.
Cancellation: Plans may be cancelled at any time within the first 30 days of the purchase date of the Plan provided that no services have been provided under the Plan.
Limit of Liability: Our total aggregate liability under the Plan is the purchase price paid for the product. In the event that the total equivalent retail value of all authorised repairs and services is equal to or exceeds the purchase price of the product or the original product is replaced with another of equal or greater retail value, all obligations under the Plan are deemed to be satisfied.
Definitions: Owner Lifetime: The lifetime of the individual purchasing the product or the lifetime of the first person the product is gifted to. Owner lifetime ceases if ownership of the product is subsequently transferred to another party. Product Lifetime: The reasonable lifetime of the product. This lifetime ceases at the point where the product is altered from its original form as described in the POS docket or Certificate of Authenticity.
The Michael Hill Professional Care Plan is a legal contract (referred to hereinafter as the "Plan"). By purchasing it, you understand that it is such a contract and acknowledge that you have the opportunity to read the terms and conditions set forth herein. This is not a contract of insurance. The company obligated under this plan is Michael Hill Jeweller (Australia) Pty Ltd, ABN 82 003 181 333.