5 Stunning Looks You Can Create with your Solitaire Engagement Ring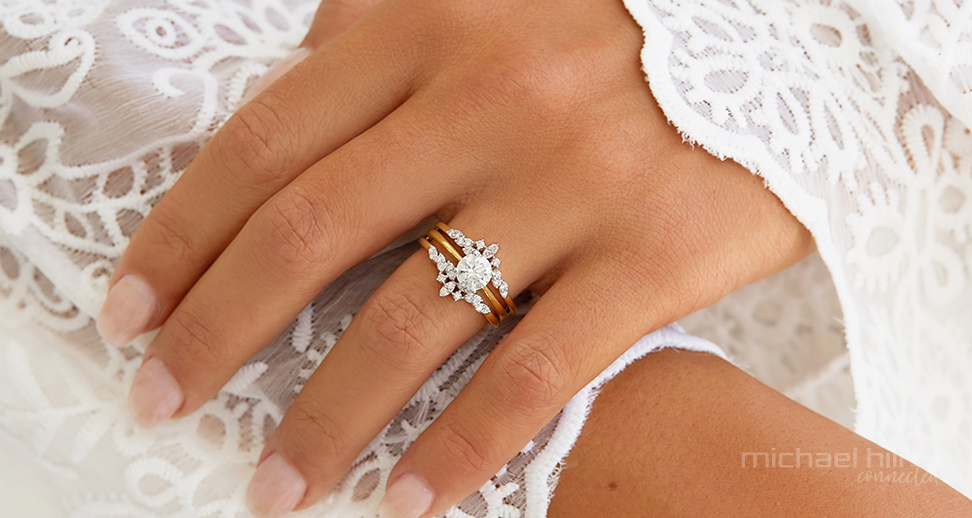 The most classic and versatile engagement ring shape, there are endless ways to style a solitaire diamond ring. We've put together our top five ideas, from simple to unique, delicate to bold, as well as our favourite wedding and eternity bands to help you get the look.
The beauty of a solitaire engagement ring, and what makes them the most-loved classic, is that your sparkling diamond takes centre stage. Perfectly showcasing the beauty of your stone, this engagement ring style is simple yet striking. So, keep the focus on your solitaire with an understated bridal ring stack.
Pair it with an elegant wedding band in the same metal colour, or, if you'd like more sparkle, a simple diamond-set band with matched diamond shapes will add wow-factor without overwhelming your solitaire.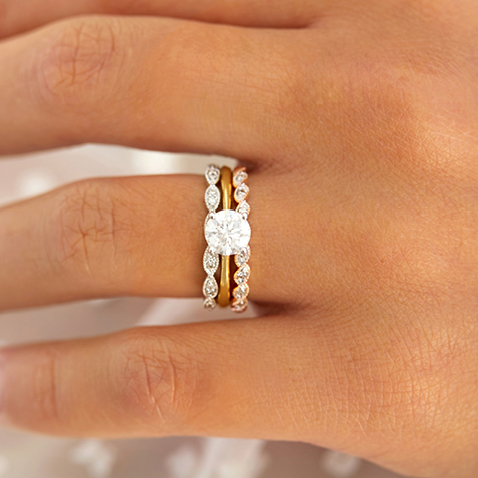 Solitaire engagement rings are the most versatile style, allowing you to get as creative as you like with your bridal ring stack. If you want a unique look that's unlike anyone else's, stack different diamond shapes, band designs, and even metal colours around your engagement ring.
Keep elements of your bridal ring stack consistent, such as matching the shapes of your wedding and eternity rings, or choosing diamond-set designs for each, for an overall beautiful, alternative look.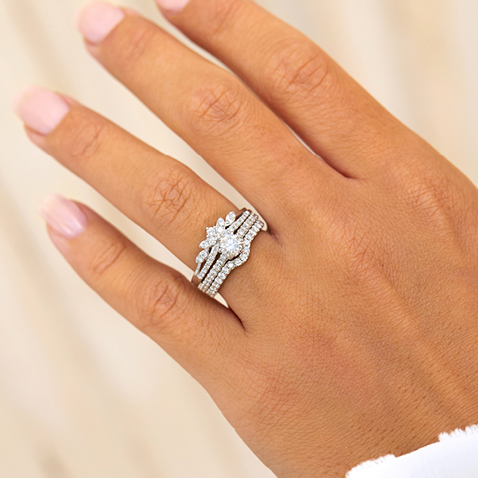 Your bridal rings are among the most special, if not THE most special, pieces of jewellery that you'll own. As a symbol of your everlasting love for your partner, they're a way of proudly declaring your commitment – so we say go as bold, sparkling, and stand-out as you like!
Framing your solitaire engagement ring with diamond-set wedding and eternity bands is a simple way to add attention-grabbing brilliance, and this is also a beautiful way to complement a solitaire style with a pavé band. If you want more of statement, try on curved or contoured wedding or eternity band shapes to add more dimension. You could even add an additional ring on top of the traditional three, to celebrate a milestone anniversary – or just because.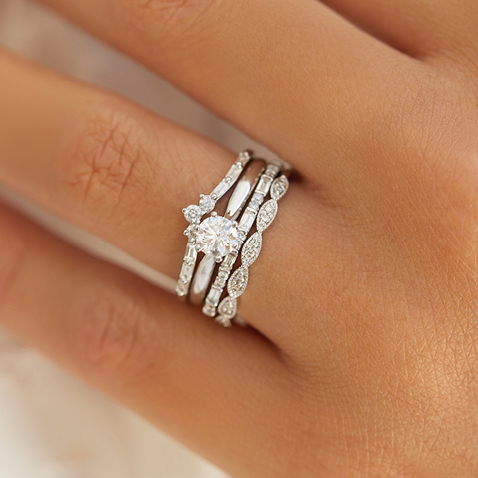 Stack your solitaire engagement ring with intricate, lacey, and pretty details for a bridal ring stack that's feminine, boho, and timeless all at once. Keeping your engagement ring, wedding, and eternity bands in the same metal colour, play with different textures and sparkle to create your detailed, delicate look.
We love a classic solitaire ring framed by uniquely shaped wedding bands and contrasting diamond shapes; try scalloped, twisted, chevron, or contoured bands, and look for designs that mix diamond shapes – such as round brilliant, baguette, and pear cut - for a beautiful and interesting look.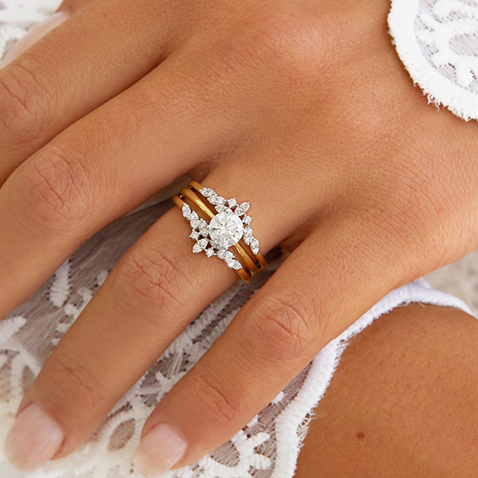 For an eye-catching yet timeless sparkling stack, frame your solitaire diamond ring with an enhancer. Enhancers are double-rowed rings which are specially designed to complement solitaire rings, so they are the perfect match for your beautifully classic ring. There are a range of styles to help you find the perfect look for you, from simple diamond-set enhancers to uniquely detailed designs.
An enhancer can double as your wedding ring, or you might prefer to use it as a beautiful style piece and stack your wedding band beneath it.