Choosing your wedding ring: our influencers' tips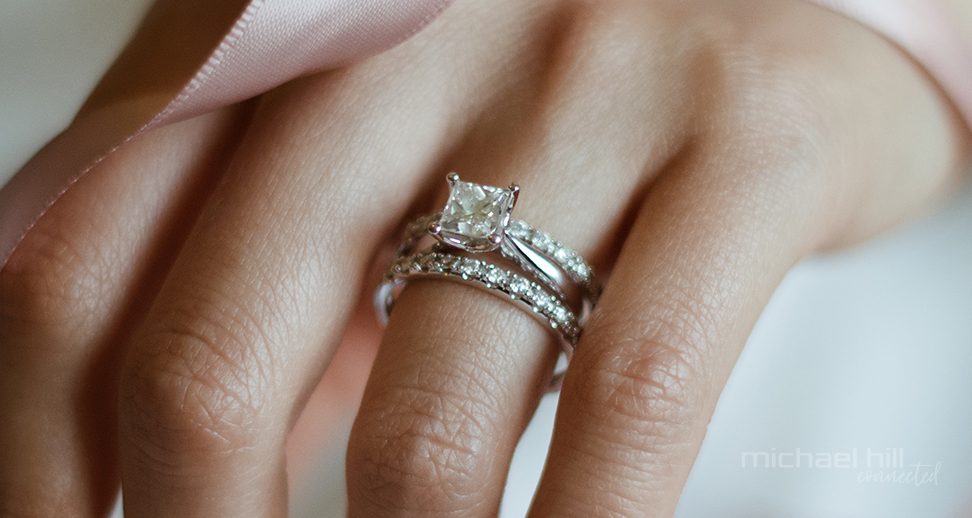 After the romance and excitement of choosing or receiving your beautiful engagement ring comes the next step: finding the perfect wedding band that will not only be a symbol of your everlasting love, but which suits your engagement ring and your personal style.
If you are unsure where to start on your wedding band search, start here! We followed two gorgeous style influencers, Ange and Mini, on their journeys as they tried on and eventually fell in love with their ideal wedding rings.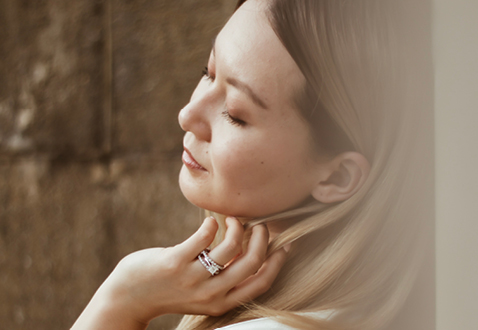 Ange
Aside from my engagement ring, the wedding ring is going to be my most precious and sentimental piece of jewellery. It will hold so much symbolism for me and Joseph's life together. And since I will be wearing it every single day, I want to ensure it pairs nicely with my engagement ring as well as selecting a timeless piece that will never go out of style.
I narrowed it down to three options which I absolutely love!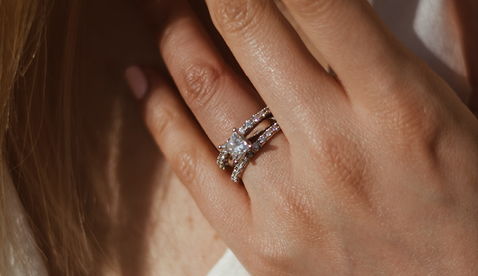 1. Enhancer Ring in 10ct White Gold. This double wedding band is attached together, and you slot your engagement ring in the middle. I matched the metal to my engagement ring and fell in love with how it elevates the whole look. Talk about sparkles huh!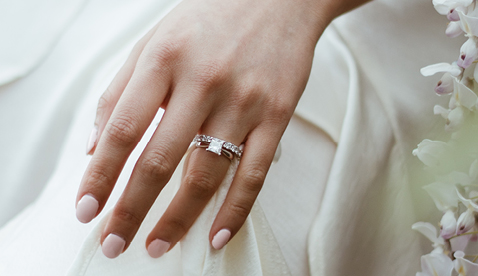 2. Single band decorated in diamonds and again in white gold to match my engagement ring. A single band will give me the opportunity to add an eternity ring on the other side in later years which is always appealing for a jewellery lover. This look is a classic and will go with any outfit and occasion.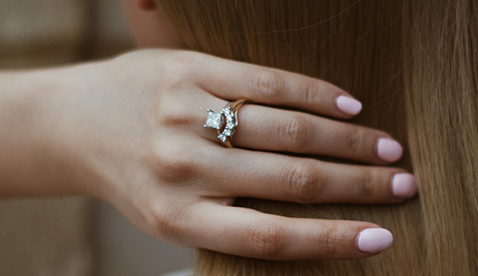 3. Mixing metals with this gorgeous band from the Evermore collection. I love how perfectly it fits around my engagement ring and it also gives me the option to buy a second one to form a full circle later down the line. Although it can be seen as unconventional to mix metals, I quite loved the subtle mixes. This also means that it will pair nicely when I opt for gold necklaces, bracelets and other stacker rings in the summer.
It was so hard to choose between the three, but I think the most ideal ring for me is the Enhancer Double Band ring. To me, it not only complemented my engagement ring and fingers, but I also loved the unison of two bands completing my 'Perfect Pair'.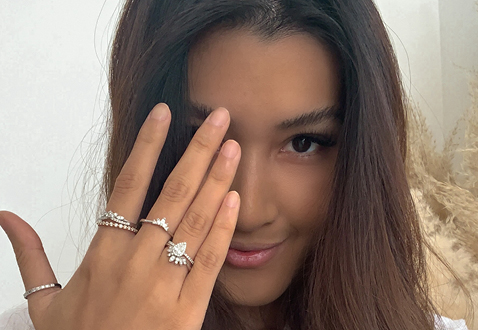 Mini
I've always wanted a wedding band that would complement my pear-shaped engagement ring but was not really sure of exactly what I wanted. My tip is to try on everything that catches your eye, even if you don't think it would look good together, try it anyway — you never know how much you'll love it until you pop it on your finger! Take your time with this and don't rush to make a decision.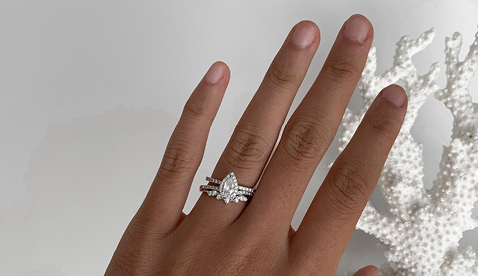 1. Think about shapes! Shapes can really enhance, overpower or do nothing for your overall look - take your time to experiment with all kinds of shapes with your engagement ring to see which ones look good and what your preference is. Sometimes the shape you had in mind isn't always the one you end up going for!
This band drew me in by its unique and beautiful shape. It worked extremely well with my engagement ring. The design of this ring makes it look like it is beautifully stacked and doesn't look over the top. After all, diamonds always complement diamonds!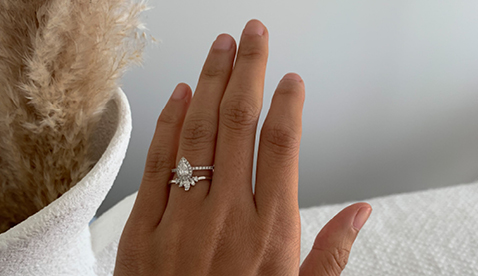 2. Diamond Band or Plain Band? Think about whether you want a uniquely shaped diamond band or plain band. Two different types give off two different effects on your hand. Diamond bands are for when you want a little (or a lot) more sparkle, whereas a plain band keeps the focus on the engagement ring. I loved this ring because it was in between those two types — it has diamonds, and it has a plain band that was visible. The shape also complemented the overall look!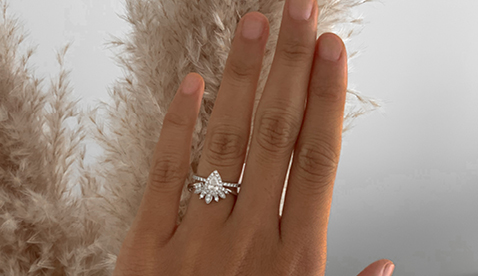 3. Choose something that you'd be happy to wear every day! It all comes down to your own preference; there is no rule for carat size, shape, or metal colours other than you should feel comfortable to wear it every day. I chose this beautiful band as my wedding band. The moment I paired it with my pear-shaped engagement ring, I instantly fell in love with it — it just felt right! I already felt like I could see myself wearing this every day. The unique shape reminds me of flower petals. To me; it means "a love that is always blooming" which perfectly describes the relationship between my fiancé and I!
Feeling inspired? Explore our range of wedding bands online, and try on your favourites virtually. Explore now >
Would you like some help choosing the perfect wedding ring to match your engagement ring and your style? Book your FREE Virtual or In-Store Appointment with our expert advisors. Learn more and book >
Words by Megan Greaney
Megan has been a writer for over 10 years, and has been writing content at Michael Hill for over two years where she has gained an extensive knowledge of jewellery – from styling and craftsmanship to materials and stones. With a background that also includes fashion, and studies of Journalism and Anthropology, she is perceptive of the emotions and cultural contexts linked to what we wear.
Last updated 20th August, 2021