Patterned Tri-Tone Ring in 10ct Yellow, White & Rose Gold
Details
https://www.michaelhill.com.au/patterned-tri-tone-ring-in-10ct-yellow-white-rose-gold-13682118.html
$
389
List Price
$
359
Member
Promotions
After Hours - Bundle Buys
Buy 1, Get 15%1 Off
Buy 2, Get 25%1 Off
Buy 3, Get 30%1 Off
6 Reviews
Description

Bold and beautiful, this striking tri-tone ring will add polish to any look. Featuring alternating rows of yellow, white and rose gold, this modern ring is guaranteed to turn heads.

Product Details

Metal colour

Yellow, White and Rose

Metal content

10 Karat

Delivery & Returns

FREE standard shipping for all orders over $70. Orders under $70 will be charged a flat fee of $9.90, or express shipping (where available) is available for a flat fee of $14.90.

Once your order has shipped, please allow 2-7 business days for delivery depending on your location. Orders requiring ring sizing take up to three (3) additional business days to complete.

If for any reason you are not 100% satisfied with your purchase, you may return it online or in-store within 30 days of delivery for an exchange or full refund. Subject to meeting the requirements of our refund policy.

For more information, visit our FAQ page.
11186748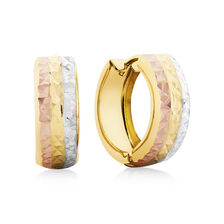 15255334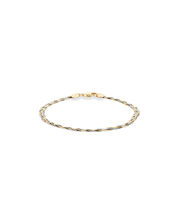 Customer Reviews

6 Reviews
08 Jul 2020
Maggiemae123
Adelaide
Not as nice as in photo online and a delicate ring
Disappointed not able wear everyday as more delicate and light material
09 Apr 2020
Curly29
Shepparton, australia
Love it never taking it off
Beautifully crafted ring.. 3 tones of gold are very stunning..
13 Jan 2019
canadian1967
Windsor, Canada
not a sturdy ring
Ordered online, shipped quickly. Purchased as a 10th anniversary band because I wanted something more durable than my diamonds for every day wear. It looks beautiful, I just wish it were sturdier. The design of it makes it less sturdy than I'd prefer. The band is a nice thickness. The issue is in the upper shank construction. The showy part of the ring is done in thin strips, not a solid band. The base ring is gold coloured strips bonded together with gaps in between where the rose and white gold bands go across the top, (from underneath it looks similar to a ladder), but the white and rose gold band parts are very thin and because they're raised and aren't anchored to the main ring structure below, they often get bumped out of place and show the gap and the structure bar below. I'd definitely not call this a sturdy ring, and care must be taken for everyday wear. I'd return it but I got it for half price, so maybe I'll look into having it welded to have the white and rose gold parts stay in place. I anticipate needing repairs or welding of some sort in the future to fix the design shortfall and keep the bands properly positioned.