Heart Bangle in Sterling Silver
Details
https://www.michaelhill.com.au/heart-bangle-in-sterling-silver-15915160.html
2 Reviews
Description

Simple yet elegant, this sterling silver love heart bangle will complete your look in any occasion. Width: 60mm.

Product Details

Metal content

Sterling Silver

Metal colour

Silver

Bangle Size

60mm

Delivery & Returns

FREE standard shipping for all orders over $70. Orders under $70 will be charged a flat fee of $9.90, or express shipping (where available) is available for a flat fee of $14.90.

Once your order has shipped, please allow 2-7 business days for delivery depending on your location. Orders requiring ring sizing take up to three (3) additional business days to complete.

If for any reason you are not 100% satisfied with your purchase, you may return it online or in-store within 30 days of delivery for an exchange or full refund. Subject to meeting the requirements of our refund policy.

For more information, visit our FAQ page.
15685414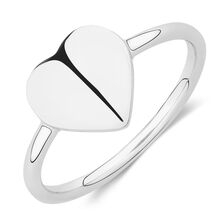 Customer Reviews

2 Reviews
26 Jul 2020
Eazza11
Melbourne
Fantastic birthday gift
This bracelet is truly amazing and I'm so happy with it because I made a purchase for my birthday and for a woman who has lost over 82kgs and has never been able to purchase any kind of jewellery from I store or online and it fit me was truly a fantastic achievement.
03 Jan 2020
JaneyT
Scarborough QLD
Too flimsy
The quality is not as good as other silver bangles I have purchased from Michael Hill. It is very flimsy and I cannot see it maintaining its shape for long....it bends out of shape when simply resting your wrist on a table.