Small Knots Pendant in Sterling Silver & 10ct Rose Gold
Details
https://www.michaelhill.com.au/small-knots-pendant-in-sterling-silver-10ct-rose-gold-15299239.html
15299246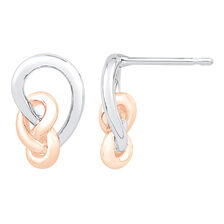 Customer Reviews

3 Reviews
23 Feb 2020
Cass12345
Melbourne
Knots necklace
From the get go, I knew the chain would be to delegate to wear so bought a $30 one in store. I wear it every day! Shower, sleeping. Everything. Love the meaning of the knot and the 2 tone colours!
05 Dec 2018
SarahAmelia007
Burnside, South Australia
Beautiful 2 tone pendant
My mum bought me this for Xmas last year, and I have only just started wearing it. I was a little apprehensive about mixing two different metal colours but the rose gold looks so pretty against my skin tone. Tonight I wore it with a white lace-overlay strapless dress with my hair in a bun. I love the story behind the Knots collection. The chain it came with is very very fine, but you can easily put a thicker chain through it.
24 Jun 2018
2963
Melbourne Australia
Fragile
I got this as a gift. I only wear this on special occasions but I had the chain repaired in the couple of weeks, then today it broke & I lost the necklace. I'm really sad, I will also need to buy another one because I haven't got the heart to tell the person who bought it for me that I'd lost it. Chain needs to be stronger