Medium Spirits Bay Solid Pendant in Sterling Silver
Details
https://www.michaelhill.com.au/medium-spirits-bay-solid-pendant-in-sterling-silver-13549886.html
$
179
List Price
$
161
Member
21 Reviews
Description

The Spirits Bay collection is inspired by the unique beauty of the Toterere shell; shaped by the ocean and the elements until only the strongest part remains. Expertly crafted in sterling silver, this unique and exquisite piece will captivate those around you. Dimensions: 30x20mm. Comes with a sterling silver toggle satin cord. Exclusive to the Spirits Bay Collection.

Product Details

Collection

Spirits Bay

Metal content

Sterling Silver

Metal colour

Silver

Length

45cm

Delivery & Returns

FREE standard shipping for all orders over $70. Orders under $70 will be charged a flat fee of $9.90, or express shipping (where available) is available for a flat fee of $14.90.

Once your order has shipped, please allow 2-7 business days for delivery depending on your location. Orders requiring ring sizing take up to three (3) additional business days to complete.

If for any reason you are not 100% satisfied with your purchase, you may return it online or in-store within 30 days of delivery for an exchange or full refund. Subject to meeting the requirements of our refund policy.

For more information, visit our FAQ page.
14848841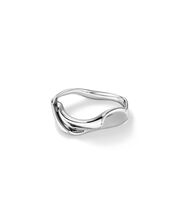 Customer Reviews

21 Reviews
23 Oct 2019
1Northlangirl
Christchurch
Favourite necklace
I was drawn to this because I used to collect the shells on the beaches around the far north of New Zealand where I was born and have walked the beach at Spirits Bay, such an amazingly beautiful peaceful place. To me this symbolizes my birth place, the winterless north. I wear it all the time. I have it on the chord and it has never come undone from the time the lady in the shop tied it, and I have had it since not long after the set was released. I also remember when Michael Hill opened his first shop in Whangarei, where I was living an working in my first job at the time, so this necklace brings back memories of those times also.Very happy with this. Would love earings to match, keep hoping there will be some one day :-)
21 Dec 2018
Vickie345
Canberra, ACT
Love this
This is my most worn piece of jewellery. I love it. I bought it for myself, I love that it signifies strength. I want to buy one for my girls.
16 May 2018
Mommy
Auckland
Dissapointment in product received as a gift.
I loved this product from the 1st time I saw it. I am however very disappointed in the quality of the product. I received the silver pendant and silk strap as a Christmas gift from my family. On putting it on for the first time, one of the silver tips came off the strap. We had to return it to a store for a replacement. Then, in April the silver pendant turned dull. I took it in to a store, and this also had to be replaced. For Mothersday my family bought me the silver clasp and chain. Two days after putting the pendant on the clasp, I had to have it replaced due to the clasp being faulty and kept on opening by itself, losing the pendant. I am not impressed with this product at all, and is waiting in anticipation to see what will go wrong next!