Four Tips for Creating Your Bridal Ring Set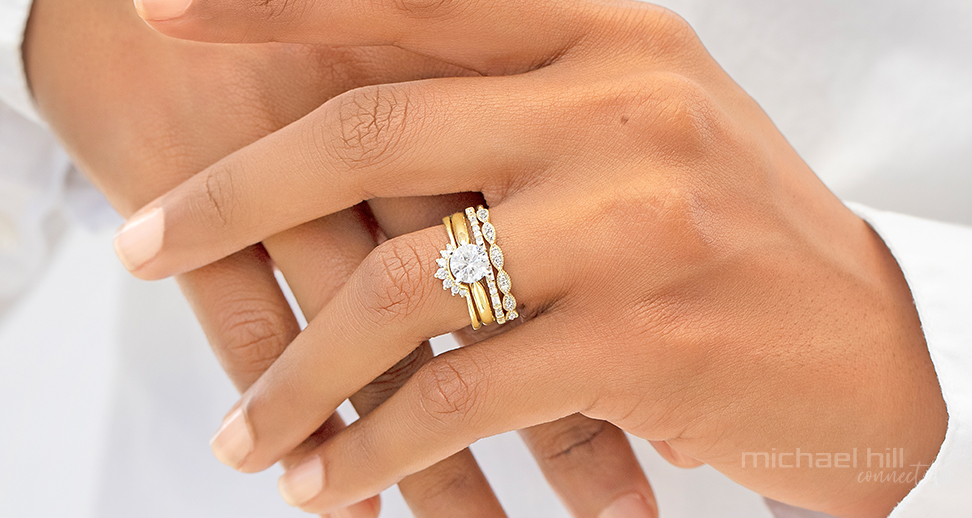 1. Make it simple with a bridal set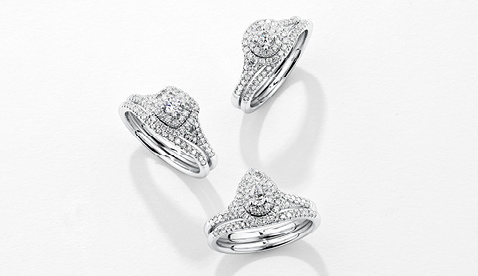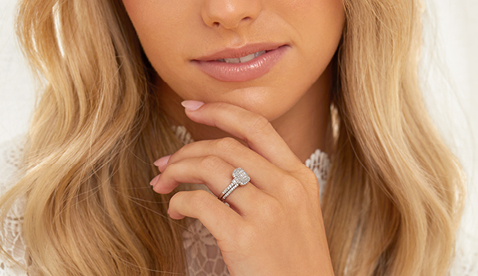 For a match that's as perfect as the two of you, try a bridal set. Bridal ring sets feature an engagement ring and wedding band that are designed to fit beautifully together. You can find a wide range of engagement ring styles that are part of a set, from halo to cluster designs, square shape to pear shape, and diamonds to coloured gemstones. Each comes with a wedding band that complements it perfectly, and many are set with diamonds for extra sparkle.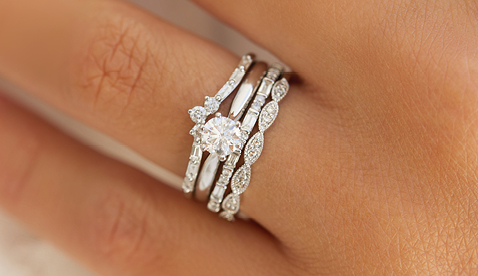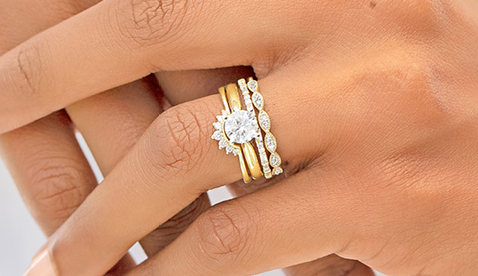 To create a bridal ring set that's totally unique to you, stack up your own! When selecting your wedding band, think about your entire bridal ring set and how you'd ultimately love it to look. That means considering your eternity band, as well as your engagement ring, and how much shape and sparkle you would like to have overall.
You also don't need to stop at your traditional three rings – if you'd like to stack on extra sparkle and texture, go for it!
The simplest rule for creating a cohesive ring stack is to match your metal colour all the way through. Diamonds are the perfect match for every shade of gold, so add as few or as many as you would like. If you'd like a truly unique look, why not mix your metals?
Experiment with trying on different combinations until you find the one. Browse online for inspiration and try on different styles from home with our Virtual Ring Try-On.
3. Double up with a ring enhancer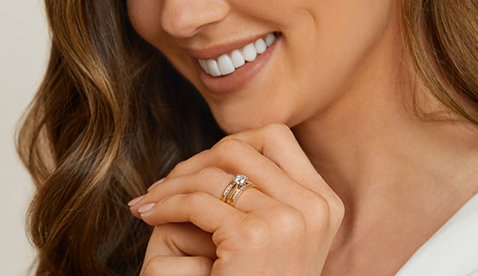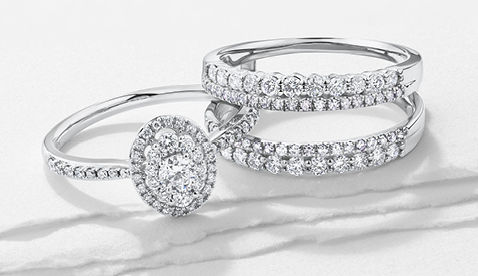 If amped-up size and sparkle is what you're coveting, an engagement ring enhancer is the perfect option! An enhancer is a 'double band' which is designed to border your engagement ring. You can choose to wear an enhancer as a way of styling up your engagement ring and then add a wedding band, or you might like it to double as your wedding band.
4. Match your fashion rings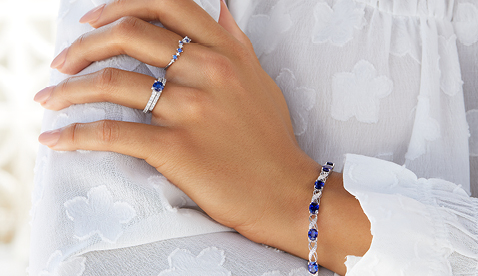 Why stop at just your ring finger? Make your bridal ring set stand out by wearing fashion rings that compliment it. Try adding a dainty band on the middle or index finger of your left hand, for some extra sparkle and texture that matches and plays up your bridal rings. A delicate style in the same metal colour, with a diamond feature, is the perfect way to add to your style.
You can also experiment with wearing a complimentary ring on your opposite hand, or go bold with a statement style.
Ensure you have a bridal ring look that you love by choosing or creating your perfect ring set! Shop all wedding and engagement rings >
If you'd like some one-on-one help choosing your engagement ring, wedding ring, or your entire bridal set, book your FREE Virtual Appointment with our expert team. Learn more and book >
Words by Megan Greaney
Megan has been a writer for over 10 years, and has been writing content at Michael Hill for over two years where she has gained an extensive knowledge of jewellery – from styling and craftsmanship to materials and stones. With a background that also includes fashion, and studies of Journalism and Anthropology, she is perceptive of the emotions and cultural contexts linked to what we wear.
Last updated 9th September, 2021