Top 10 Tips For Perfecting Your Bridal Look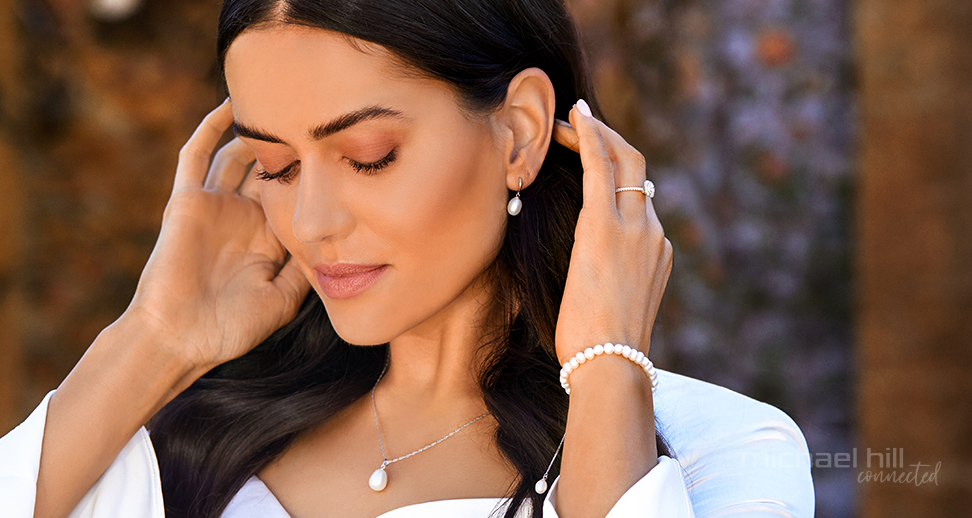 1. Give yourself plenty of time for all the details
As one of the most special days of your life, you don't want to be in a rush to organise your wedding day look. Start thinking about it early on when making your wedding plans – this way you can also ensure your individual look and your plans for the celebration itself all tie together.
2. Save and organise all your inspiration
The best way to decide on the kind of styling, dress, and beauty choices you'd like is to find inspiration from other weddings. Use Pinterest, social media, or create your own digital or hard-copy mood board or scrapbook, then save/ pin/ paste the inspiration you love most!
3. Start with what's most important to you
There's a good chance you already have something in mind that will form a key part of your bridal style. Maybe it's the type of wedding dress you've been dreaming of, an heirloom accessory or piece of jewellery that you want to wear, or even your dream venue which will influence your overall theme. Start with the part that means most to you, and style from there.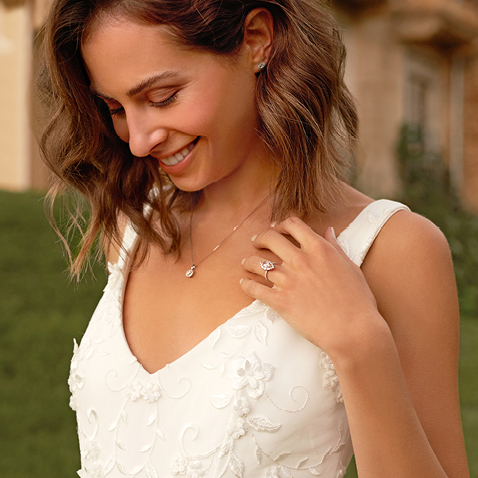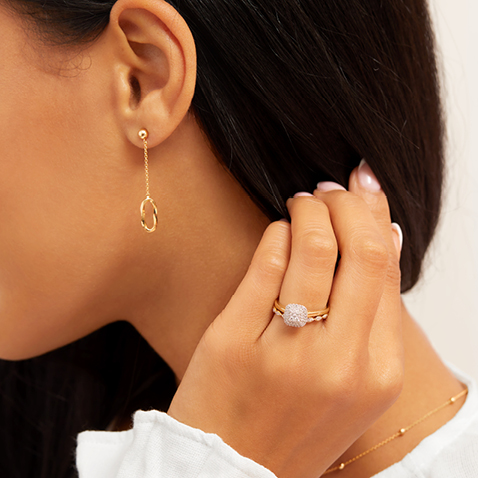 4. Choose a beauty look that feels like you
It can be tempting to choose a highly glamorous look or something very different to your usual style in order to stand-out on your wedding day. However, it's most important that you feel comfortable and confident! Choose a hairstyle and make-up that suit your style, but which are elevated from your everyday to ensure you feel extra special.
5. Consider your jewellery a key part of your style
When it comes to perfecting your wedding day, you'll want to pay attention to all of the details – and your accessories and jewellery are important parts of your overall bridal look. Decide whether you'd prefer more traditional jewellery - such as pearls or diamonds – or something more modern, such as yellow gold or layered jewellery.
Your jewellery is also the perfect way to factor in wedding traditions, such as 'something old' (an heirloom piece) or 'something blue' (sapphire, blue topaz, aquamarine or tanzanite).
6. Choose your hero accessory first
If you have an accessory you've fallen in love with, such as an heirloom piece, a statement hair accessory, or your veil – use this as your starting point and choose the rest of your jewellery and accessories to complement it. Of course, you can also start with your engagement ring and wedding band, and style the rest of your jewellery to match these key meaningful pieces.
7. Keep consistent with your theme and colour palette
For a beautifully styled wedding, keep your bridal look consistent with the theme and colour palette of your wedding celebration. For instance, if you have chosen a rustic-style venue and theming, you might consider a boho-style dress and fine intricate jewellery. If you prefer an opulent, eye-catching theme, your dress, hair and makeup might be more glamorous and polished, with traditional-style jewellery such as pearls and diamonds.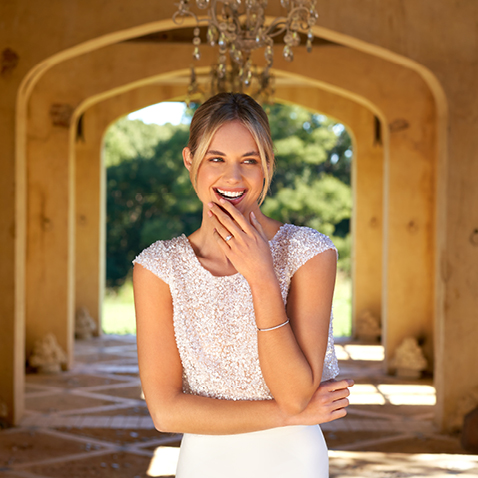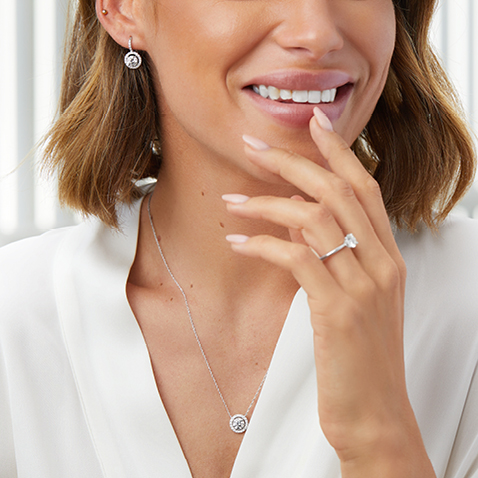 8. Match (or complement) your bridal party
Keep on theme by tying in your bridal party's looks as well. Choose dresses and beauty styles for your bridesmaids that complement your theme, and that your bridesmaids feel confident and beautiful in. You don't have to match exactly (unless you want to), but you can create a beautiful cohesive look with your bridal party by sticking to a colour scale, and perhaps tying in matching jewellery pieces or hair accessories for a thoughtful touch.
9. …. And match with your partner!
Don't forget to consider your partner's wedding look, too! Try to choose your styling and accessories so that you both feel comfortable and respect each other's personal tastes, and so that you're also harmonious with each other.
10. Tie it all together
Remember, you're not choosing each element of your bridal look individually. You'll want everything to come together to ensure you feel amazing and that your big day is as special as you deserve. Consider your hairstyle, makeup, jewellery and accessories, and dress all together to create your perfect look.
Shop our favourite wedding day jewellery:
Words by Megan Greaney
Megan has been a writer for over 10 years, and has been writing content at Michael Hill for over two years where she has gained an extensive knowledge of jewellery – from styling and craftsmanship to materials and stones. With a background that also includes fashion, and studies of Journalism and Anthropology, she is perceptive of the emotions and cultural contexts linked to what we wear.
Last updated 7th September, 2021