How To: Style Wild Hearts

A whole new way to express your unique style, our Wild Hearts collection is all about creating a look, not filling a bracelet. Read on to learn how to make Wild Hearts work for you!
Remember: You're normal Captured Moments charms won't fit on your Wild Hearts bracelet so you've got a clean slate.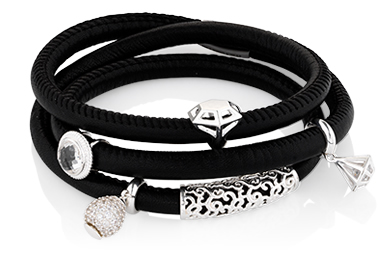 THE RIGHT FOUNDATIONS
If you're just starting out, there's a few essential items you're going to need:
First off, a bracelet. Our thick leather wrap bracelets come in black, berry and slate, and are available in 41cm and 61cm* styles. Choose your favourite and let's get started!
Next, add an all new sleeve charm as the focal point.
Mix in at least two button charms and two dangles to finish off your foundation. Choose whatever speaks to you.
*black only
ADDED ATTITUDE
Once you're happy with your initial look, you can keep adding when inspiration strikes. Experiment with adding and interchanging different pieces so you can update your bracelet as often as you like. And if you're looking to create something truly unique, try our Wild Hearts adapter dangle which lets you add any charm from the Captured Moments range.
LAYERED LOOK
One Wild Hearts bracelet is good, but multiple Wild Hearts bracelets are better. This collection is perfect for stacking! Layer a few bracelets together for a bigger, bolder look!